Join us for ESTEEM3 final event!
As the ESTEEM3 project is drawing to a close, Euronovia invites you to its Final Infoday on Wednesday, 31 May 2023, from 9am to 4pm (CEST) in Paris, France.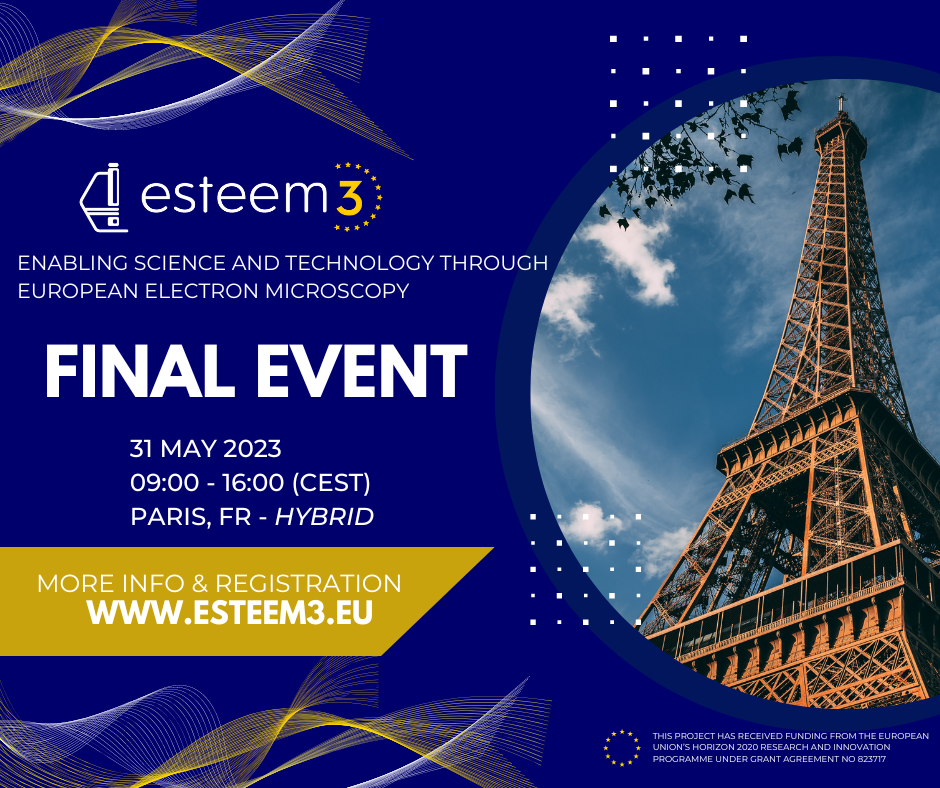 Electron microscopy in focus
We are excited to celebrate the significant achievements of the ESTEEM3 project and share with you the ground-breaking research and discoveries that have been made possible through this initiative. The event will feature presentations from leading researchers in the field of electron microscopy and materials science, showcasing the cutting-edge microscopy techniques and sustainable materials that have been developed during the project. In addition, a session will be dedicated to the ESTEEM3 Transnational Access with the feedback of selected TNA users and an overview of our main TNA achievements.
You can find the agenda on the project website.
Join the ESTEEM3 final event
This event, organised by Euronovia is open to all. It will be a great opportunity for you to discover this EU-funded project and its results.
This is a unique opportunity to engage with some of the brightest minds in the field of electron microscopy and materials science and to learn about the latest developments in this rapidly evolving field. We hope that you will be able to join us for this exciting event.
Practical information & Registration
Date & Time: Wednesday, 31 May 2023 |9am-4pm (CEST). Lunch will be offered.
Location: Loft des Écluses, 159 Quai de Valmy, 75010 Paris
Registration is free but mandatory. Register here!
For more information, you can visit the event page on the ESTEEM3 website.