LIFE is the EU funding programme for the environment and climate action. As the 2021-2027 programme gets underway, let's have a look of the opportunities available.
The LIFE programme in a nutshell
Created in 1992, the LIFE programme is THE European Union's funding programme for the environment and climate action.
This instrument, which is open to private and public actors, has funded more than 5,500 projects in areas such as the protection of biodiversity, the improvement of water or air quality, waste management and the energy transition. Find the different projects funded in the brand new database right here.
For the new programming period 2021-2027, the LIFE programme has been considerably strengthened to meet the targets set by the European Union towards a climate-neutral economy by 2050.
What's new in 2021-2027?
First, the structure of the LIFE programme has been expanded. The two previous categories, "Environment" and "Climate Action", are replaced by 4 distinct sub-programmes:
Secondly, the LIFE programme is given a total budget of €5.4 billion, an increase of 60% compared to the previous period. The budget breakdown by action will be as follows: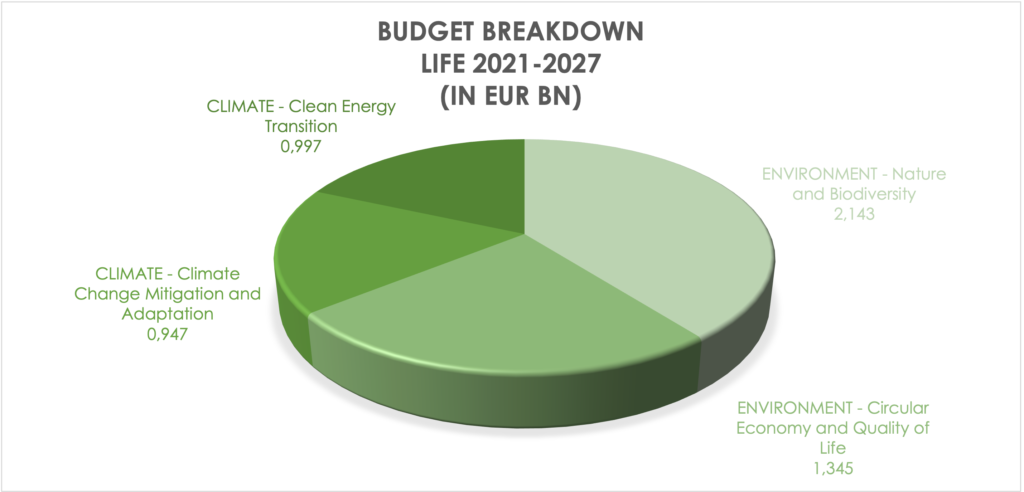 With EUR 2 billion (40% of the total budget), projects for the protection of Nature and Biodiversity will be the priority of the future programme.
Moreover, since 1st April 2021, a new executive agency has been set up to manage and implement the LIFE programme: the European Executive Agency for Climate, Environment, and Infrastructure (CINEA).
Here again, CINEA's competency will be extended to other European funding programmes related to climate action, including:
Save the date: LIFE 2021 InfoDays
In anticipation of the launch of the first calls in June 2021, the LIFE EU Info Days will take place from 22 to 25 June 2021.
On the agenda:
Tuesday 22 June: Opening and presentation of the LIFE programme;
Wednesday 23 and Thursday 24 June: Dedicated sessions on the sub-programmes;
Friday 25 June: Dedicated session on NGO Operating Grants.
Due to the health context, this major event will be virtual. Registration and the detailed agenda will be published soon.
---
Do you want to set up a LIFE project? Euronovia can help you at every stage of your proposal. To increase your chances of success thanks to our team of expert consultants, do not hesitate to contact us!