Expert in communication and dissemination for European projects, Euronovia invites you to discover its wide range of customised support!
Dissemination VS Communication: are they different?
Although, they are often confused, dissemination and communication actions do not have the exact same goal.
Dissemination activities aim to maximize the impact of your project's results. They are more strategic and target, from the proposal stage, any audience likely to use these results. It can be, for example, the scientific community, professional organisations, industry, decision-makers, investors, civil society, …
The aim of communication activities is not only to disseminate the results of your research, but also all the information related to the project as a whole (objectives, partners, activities etc.). The target audience is wider and the content is designed for non-specialists. The idea is to make the research or innovation created accessible to all and for all thanks to less formal formats such as infographics, videos or blog articles.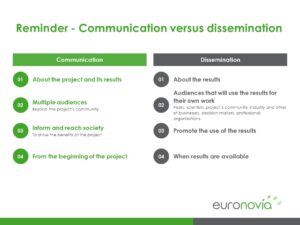 For more information, you can read our article "H2020: How to make the difference between communication and dissemination" or our webinar "Communication and Dissemination: the ultimate starter pack for EU projects".
Benefit from our expertise
Our consultants are specialists in communication and dissemination activities and will help you define your communication and dissemination strategy from the project application phase. This support includes:
Developing your communication and dissemination plan, which must now be part of your application;
Identifying target audiences;
Proposing innovative activities and media to reach your target audiences;
Defining performance indicators for each activity;
Establishing a clear timeline for communication and dissemination activities.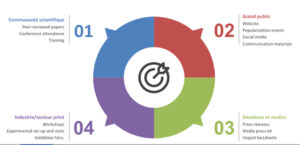 Audience VS Media: A few examples
Concretely, what do we do in a project?
Euronovia is a partner for the communication and dissemination activities of 9 projects, 7 Horizon 2020 and 2 Horizon Europe signed in 2022.
Our role is to support and involve the consortium in the project's communication and dissemination strategy, but also to carry out a range of communication activities and tools:
The creation of various communication materials (logos, brochures, press releases, newsletters, posters, etc.) ;
The creation and maintenance of the project's website;
The weekly management of the project's communication activities through newsletters, news, and posts on social networks;
The organisation of events to communicate and disseminate the results of the projects (participation in trade fairs, organisation of seminars, training activities, webinars, etc.);
The implementation of templates and tools for an optimal monitoring of the communication actions and an evaluation of their impact.
Without further delay, discover some of our latest achievements!
Our achievements



Videos
Brochure and Flyer


Events

Social media



Press file